NEED A LABORATORY?
Save time and money searching! Find a Lab for all your laboratory testing and scientific research.
Submit Laboratory Test Request
ARE YOU A LABORATORY?
Gain new business by registering your laboratory.
HAVE QUESTIONS?
Call us 24/7 1-855-377-6821 or send us an email.
Helix Biological Laboratories
Methodologies:
Helix Biological Laboratory uses leading edge molecular methodologies such as PCR (both qualitative and quantitative), DNA Isolations, DNA Amplifications, DNA Footprinting, DNA Sequencing, DNA Sequence Analysis, Vector Cloning, Western Blotting, Electro Mobility Shift Assays (EMSA) and Antibody Assays (ELISA).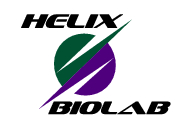 28044 James Dr.
Warren, MI US