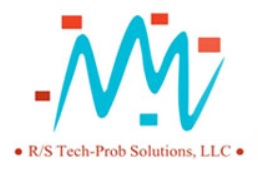 R/S Tech-Prob Solutions, LLC Renewed it's Registration with Contract Laboratory - The Laboratory Outsourcing Network!
Contract Laboratory is pleased to announce that R/S Tech-Prob Solutions, LLC has renewed it's registration with ContractLaboratory.com - The Laboratory Outsourcing Network!



R/S Tech-Prob solution is a contract research organization, (FDA registration #: 2012090215), that provides analytical, formulation, and regulatory services to the variety of industries, manufacturing companies, research institutes as well as universities, We provide analytical methods development and validation of methods, purity and identification of raw materials and API, accelerated, short term and long term stability studies, regulatory auditing and consultation.
Our lab is GMP, our instruments are calibrated routinely by third party vendors.
We have scientists with 70+ years of combined experience in pharmaceutical research, development and regulatory aspects. We work with you from designing, developing, scale-up, preparing CMC for IND/NDA filing to FDA for your products. We know what FDA requires for developing and manufacturing the products. Our scientists have worked in the pharmaceutical companies such as GlaxoSmithKline (GSK), Sanofi-Aventis, Johnson & Johnson (J&J), and Solvay pharmaceutical, and Dow chemical. .
For more information please visit our web site: www.chiralanalytics.com and contact us at 561-972-7583



Contract Laboratory is a premier online scientific Laboratory Outsource Network founded in 2003. Offering extensive search and database capabilities, combined with sourcing solutions and information services, designed to promote and facilitate the laboratory procurement process.


To date, Contract Laboratory has facilitated millions of dollars worth of contracts through its Laboratory Request Software. It has served government, military, academia and corporate clients internationally in a multitude of industries ranging from pharmaceuticals, biotechnology, life sciences, oil and gas, defense, textiles, apparel, automotive, power and energy, environmental, agriculture, mining, aeronautical, etc.
View R/S Tech-Prob Solutions, LLC's profile
Links: