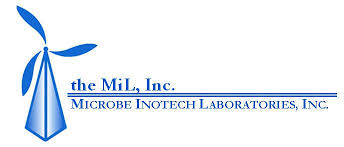 Microbe Inotech Labs, Inc Registers with Contract Laboratory - The Laboratory Outsourcing Network!
Contract Laboratory is pleased to announce that Microbe Inotech Labs, Inc has registered with the Premier Laboratory Outsourcing Network!




Microbe Inotech Laboratories, Inc. (The MiL, Inc.) is your direct source for answers to all of your microbiological inquiries. We are a full-service laboratory that can provide microbial and biochemical analyses for your specific industry. Whether you are concerned about food safety or you need microbiological testing for your field, Microbe Inotech Laboratories has the expertise and advanced technologies to provide solid answers. We have more than 25 years of experience in helping our customers find practical solutions to their microbiological needs. We offer our broad range of services to manufacturers, retailers, processors, and many other industries. Our laboratory divisions are environmental, food safety, industrial, pharmaceutical and governmental.Are you interested in conducting a study or a sanitation audit? Microbe Inotech has participated in many analyses and can help provide the solutions that you are trying to find. We offer competitive pricing, unmatched customer support, and guaranteed turn-around time on our analytical services.
Contract Laboratory is a premier online scientific Laboratory Outsource Network founded in 2003. Offering extensive search and database capabilities, combined with sourcing solutions and information services, designed to promote and facilitate the laboratory procurement process.
To date, Contract Laboratory has facilitated millions of dollars worth of contracts through its Laboratory Request Software. It has served government, military, academia and corporate clients internationally in a multitude of industries ranging from pharmaceuticals, biotechnology, life sciences, oil and gas, defense, textiles, apparel, automotive, power and energy, environmental, agriculture, mining, aeronautical, etc.
View Microbe Inotech Labs, Inc's profile
Links: