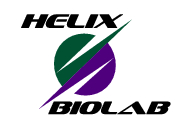 Helix Biological Laboratories Renews Registers with Contract Laboratory.com
Contract Laboratory is pleased to announce that Helix Biological Laboratories has registered with the Premier Laboratory Outsourcing Network!



Helix Biological Laboratory LLC is a full service bioanalytical laboratory that is engaged in a wide variety of biological testing, analytical and consulting services. It is the goal at Helix Biological Laboratory to provide clients with a comprehensive range of services to meet their specialized needs.

Helix Biological Laboratory is able to provide these services by using the most advanced methods and the most comprehensive procedures to ensure that the needs of our clients are met. We can also custom design assays for the particular needs of our clients upon request.

Helix Biological Laboratory uses leading edge molecular methodologies such as PCR (both qualitative and quantitative), DNA Isolations, DNA Amplifications, DNA Footprinting, DNA Sequencing, DNA Sequence Analysis, Vector Cloning, Western Blotting, Electro Mobility Shift Assays (EMSA) and Antibody Assays (ELISA).

Why Test With Us?

We have established a lab that that will provide the client with the best testing protocols and methods available in regard to technology, expertise and accuracy. The procedures and methods that Helix Biological Laboratory employs have been diligently designed and tested and are largely based on data from many academic research laboratories whose work is cited in the scientific literature.

Our molecular based testing methodologies follow all of the testing protocols and procedures that have been set forth by such organizations as the EPA and NELAC. Helix Biological Laboratory is GLP compliant and adheres to all outlined GLP standards and regulations to ensure the consistency and reliability of results. We are also a member of the Soil and Water Conservation Society (SWCS).

At Helix Biological Laboratory, we are committed to understanding the specific needs of our clients and we communicate our findings to our clients in a relevant and easy to comprehend way.

We have the capability to custom design assays to meet the specific needs and requirements of our clients.



Contract Laboratory is a premier online scientific Laboratory Outsource Network founded in 2003. Offering extensive search and database capabilities, combined with sourcing solutions and information services, designed to promote and facilitate the laboratory procurement process.


To date, Contract Laboratory has facilitated millions of dollars worth of contracts through its Laboratory Request Software. It has served government, military, academia and corporate clients internationally in a multitude of industries ranging from pharmaceuticals, biotechnology, life sciences, oil and gas, defense, textiles, apparel, automotive, power and energy, environmental, agriculture, mining, aeronautical, etc.
View Helix Biological Laboratories's profile
Links: